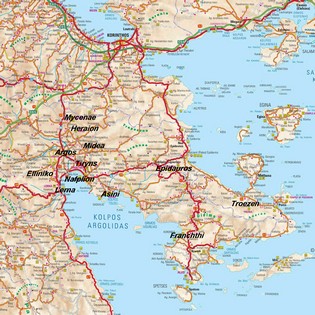 The Argolis peninsula in the northeast of the Peloponnese is home to many of the most important archaeological sites in Greece. The region features prominently in Greek mythology and is associated with some of the greatest legendary figures of Ancient Greece.
Within this single province all periods of Greek history are represented from the Neolithic settlements at Franchthi and Lerna, to the centres of the powerful Mycenean civilization at Tiryns, Asini, Midea and Mycenae, the Classical Era sanctuary and theatre at Epidauros, the Roman baths and Agora at Argos, the Frankish castle of Larissa and the Venetian fortifications at Nafplion, the city which was to become the first capital of the independent Greek state.

Visitors to the area who are interested in exploring Greek history may find that Nafplion would make a convenient base as all the sites listed here can form the basis of day trips.