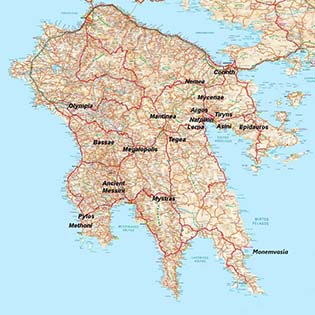 The Peloponnese ("Island of Pelops") is the name given to the large peninsular which dominates southern Greece. It is an area which is extraordinarily rich in history and is home to five UNESCO World Heritage sites. It also features prominently in Homer's epic poems.
The Peloponnese has always played a leading role in the evolution of Greece. It was the setting for the great centres of the Mycenean civilisation, the location of such major city-states such as Corinth, Argos and Sparta and the scene of famous battles during the Peloponnesian War. During the Byzantine period, Mystras was second in importance only to Constantinople. It is also in the Peloponnese that Greeks first rose up against the Ottomans at the start of the War of Independence.
The sites presented here reflect all aspects of the long and tumultuous history of the Peloponnese including Neolithic settlements, Bronze Age citadels, ancient religious sanctuaries and stadiums, classical temples and monuments, Byzantine churches and Frankish castles.
Visitors to Greek archaeological sites may wish to read this useful summary:

A bird's eye view of Greek history by Jaap-Jan Flinterman